About AME Movers
Best Movers in Central TX
We're not just your movers, we're your  NEIGHBORS.
AME Movers is dedicated to becoming one of the most trusted moving company in the state of Texas.  That is why go above and beyond to offer our customers Damage Coverage, Straight Forward Pricing, On Time Assurance, and Flexibility. We know that hard work, knowledge, and a great staff is what it takes to accomplishing this vision.
At AME Movers our Values are built on a Quality that R.O.C.K.S.  Our values are:
Relationships – We believe relationship is the key to a great experience.  We take the time to know and understand each customer's needs.  At AME Movers you are treated as a neighbor not a business transaction.
Operations – When your hard earn money is on the line, it is imperative that the process is stream line to go as fast as possible.  AME invests heavily in our team and equipment to make sure that we are as efficient and effective as possible without sacrificing quality.
Character – Our character shines in the form of:  Integrity – we won't cut corners.  Respect – we will treat you like we want to be treated. Trustworthiness – we stand by what we say.  Lastly Dependability – we always show up ready to work.
Knowledge – At AME Movers we love to learn.  We do things that others stray away from because our team is always eager to learn.  While most moving companies shy from gun safes or pianos, we don't.
Service – A core foundation block for AME Movers is our commitment to our community.  We love the opportunity to help volunteer and give back to our community that helps support us.
AME Movers pledge to always be fair and honest.  We will never overcharge, never cut corners, and never eat up the clock.  We work hard and take pride in doing so.  At the end of every job we want our customers to be 100% satisfied.  If at the end of the day you are not, please let us know.  We always love the chance to help better serve all of our customers.
AME's History
The story of AME Movers starts as far back as 2008.  In the winter of 2008, a couple of roommates, Rey and Aaron, started to work for a local labor only moving company in Killeen, TX.  Their original goal was to earn enough money to get through college and get a "real job."
After a couple years moving they began to see a real future in the moving industry.  They both loved hard work and were going to college for business.  Rey threw out the idea of starting their own moving business.  Aaron loved the idea but was about to get married and needed a steady income.
In 2011 Rey started AME Movers in Belton, TX and began to grow the business organically.  Word of mouth spreads fast in small towns and in just a couple of years Rey had a very successful moving business.  There was one problem; however, Rey was from Florida so as the years grew so did his desire to be back home.
At the end of the year 2018 Rey had made up his mind he was moving back to Florida and approached Aaron to see if he wanted to take over AME.  Aaron McBride along with his business partner, Will Gray, took over AME Movers at the beginning of 2019.  Will's background in IT has helped streamline communications and operations for AME Movers.
At this point in time AME Movers is expanding into 2 other markets, Round Rock and Waco.  With a strong team, determination, and years of knowledge in the industry, there is no telling what the future holds for this young company.  All we know for sure is they will keep moving forward.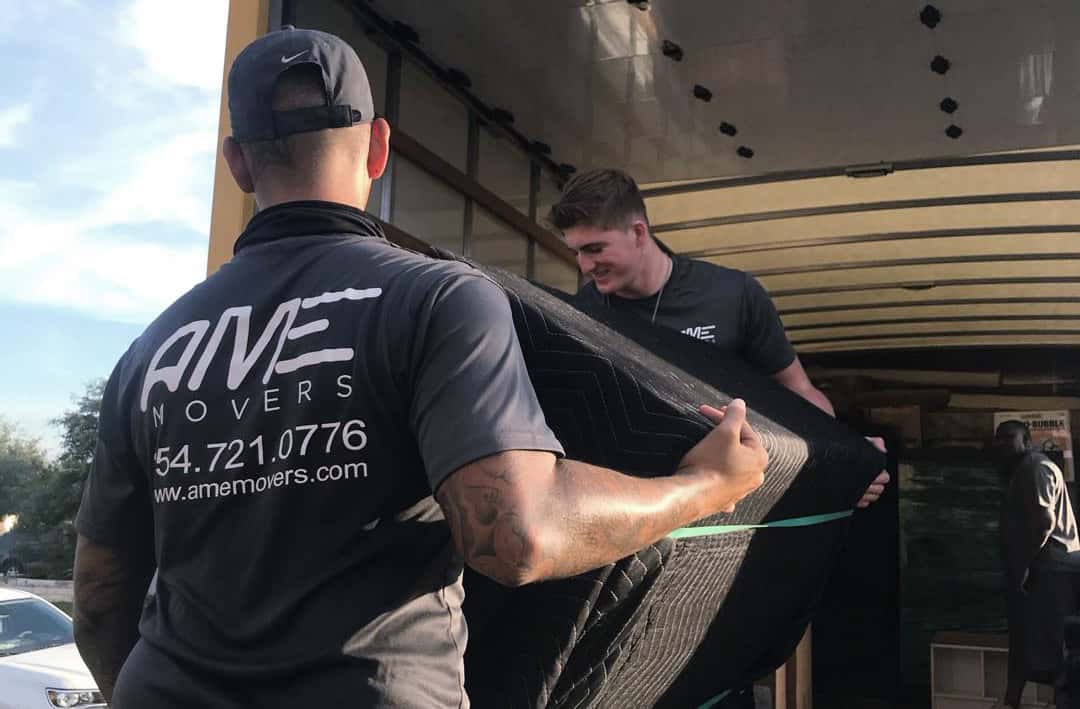 PLEASE SELECT A LOCATION YOU WOULD LIKE TO RECEIVE A QUOTE FOR
PLEASE SELECT A LOCATION YOU WOULD LIKE TO RECEIVE A QUOTE FOR